Flowrosophy: Grand Opening of Cardinal Hill's Atrium Art Gallery

The Flowrosophy® Collection
They say "April Showers Bring May Flowers." But the May flowers we are experiencing this month are on canvas, murals and paper, and carry a very special message. Elizabeth Shatner, wife of Emmy and Golden Globe Award-winning actor William Shatner, will be the first artist featured at Cardinal Hill Hospital's new Atrium Art Gallery, which opens with a meet-and-greet public reception on Monday May 14th from 4pm to 7pm.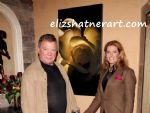 Mrs. Shatner's work, which she refers to as "Art by Nature", is a fusion of photography and a special high tech painting technique that creates images of flowers that have been compared to the symbolic flower paintings by renowned artist Georgia O'Keefe.
The pieces on display at Cardinal Hill are from her Flowrosophy collection, and carry a special message of hope and healing that the artist believes resonates with the therapeutic mission of Cardinal Hill Hospital.
Proceeds from the sales of Mrs. Shatner's works will benefit programs at Cardinal Hill Hospital.
For more information, visit http://www.ElizabethShatnerArt.com