Elizabeth Shatner to be Featured in UK Art Museum

Elizabeth is very proud to announce that her artwork, Crystal Light 5, will be featured at the University of Kentucky Art Museum from February 21st to the 23rd as part of the Art in Bloom 2014 exhibit.
Mrs. Shatner will be in attendance Friday and Saturday to discuss this exciting new installation with museum visitors.
For info on the special "Meet the Artist" event on Saturday afternoon, visit our Facebook event or ABN Facebook page.
https://www.facebook.com/events/367059233434840/
https://www.facebook.com/LizShatnerArt
For tickets, call 859-257-5716 or visit http://finearts.uky.edu/events/art-museum/art-bloom-2014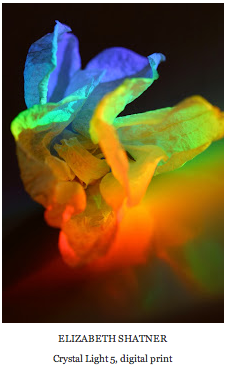 The Art Museum staff is busy preparing for everyone's favorite fundraiser...Art in Bloom 2014 will be here the weekend of February 21 thru the 23. This year we are really excited to have Elizabeth Shatner as our signature artist. Ms. Shatner didn't realize it but, before she ever picked up a camera, she had already spent most of her lifetime preparing to become a photographer.

She began a successful horse judging career at the age of fourteen, and over the next several decades accumulated a body of work that included nine different breed affiliate cards. She spent those years honing a unique skill set: the ability to observe a horse-rider combo, compare it to an ideal, and then pick the competitor that suits that ideal -- all in a short period of time.

"As the horses in the class are passing, my brain takes a snapshot of not only the shape, manners and presence," says Elizabeth, "but also of how are they working as a whole. I'll have to remember that and compare it to the others as well as to the standard… so my mind is capturing impressions and stationary images for comparison, in both real time and remembered time."

A few years ago, while on a photo shoot in Israel with her husband, actor William Shatner, she was inspired to pick up the camera and quickly found that her judge's eye was the pathway to becoming an artist. "When I capture a moment in time, for recording beauty or history, I tend to categorize the subject, or the thought it inspires. Looking through the lens seems to stimulate the same portion of my brain and consciousness that it takes to ride or to judge." She finds in her subjects not only visual aspects, but also themes, stories and meanings.

For Elizabeth, photography has led to a meditative relationship with time and permanence, the intangible and the tangible. What is at first a moment of reality in her eye, becomes a thought in her mind's eye, then becomes a reflection captured in her camera. Residing there on a chip, it is a ghost made of only potential, and will be lost forever should the image be erased. However, the ones that make it to a physical medium (be it hard drive, projection, or canvas) take on lives of their own. "To be moved by a sight, a thought, or a concept into taking a natural image from fleeting moment to archived "piece", is an action much like conception. To me, that's a form of miracle."
Source: http://www.artmuseumatuk.blogspot.com/2014/01/the-art-museum-staff-is-busy-preparing.html